New Single ITS THERE Premieres on Yahoo! Music & Available on All Digital Music Outlets March 18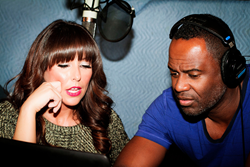 New York, New York (PRWEB) March 18, 2014
Arika Kane is an independent artist achieving major attention from the music industry. She has released two albums with multiple high-charting singles, and her inspirational song Make It is currently the theme song of VH1s HOLLYWOOD EXES. Now, Arika Kane has joined forces with R&Bs incomparable, Grammy-nominated Brian McKnight on the new single Its There being released March 18 on all digital music outlets including iTunes and Amazon.com. Yahoo! Music is also premiering the track on March 18.
"This song is going to blow people away, says Brian McKnight who flew to New York to record with Arika at Chung King Studios. Arika Kane has a beautiful voice and she knows how to punctuate a lyric…it was great recording Its There with her; not to mention the songs lush productionIts There is re-introducing the sound of the timeless ballad."
Arika Kane says: "Its There is a timeless ballad about coming full circle in realization of self and life through an unbreakable love story. It was an honor to have worked with the legendary Brian McKnight on this song. Brian is a humble and truly gifted artist. Im thrilled to be able to share such a musical masterpiece for the world to hear!"
Written and produced by Arika Kane, Louis Humphrey and Jasmon C. Joyner , Its There is an unforgettable romantic love song that defies genres it just grabs your heart. The song is the first single off of Arika Kanes forthcoming album.
About Arika Kane

A BSE Recordings artist, Arika Kane has released two albums, the self-titled debut in 2009 and SUBSTANCE, released in 2012. She has had two Billboard top-10 sales singles and two Billboard top-20 R&B Airplay singles. Her voice is frequently heard on VH1, where her songs have been featured in over 40 shows, including "Love & Hip-Hop; "Single Ladies" and "Hollywood Exes." Her ballad, Make It is the theme song of VH1s Hollywood Exes.
About BSE Recordings

Since 2008, Connecticut-based BSE Recordings has attracted national recognition by positioning new artists on major platforms. This purely idependent record label has landed its artists on Billboard charts, including UAC, rhythmic, R&B, pop and urban, making BSE Recordings one of the most successful independent record companies in the industry
For More Information, Or Interviews with Arika Kane, Contact:

Kymberlee Norsworthy

WorthInkPR(at)gmail(dot)com
Contribution Link from BurstMedia with respect to Url linK :
Url linK
Tags: onlineIts